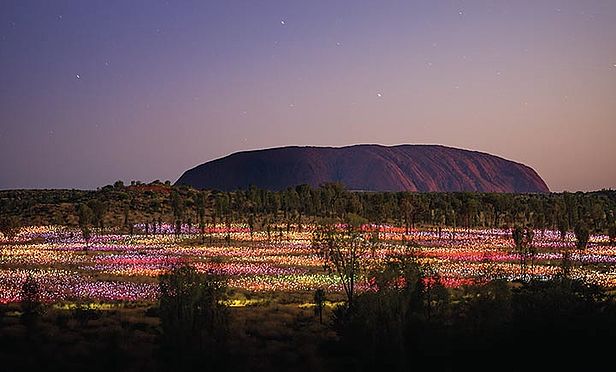 Red Centre
11th August 2019 (TBA Days) Coach or Fly
Tour Cost:
Pensioner: $TBA per person twin share
Adult: $TBA per person twin share
Single Supplement: $TBA
Is Australia's Red Centre on your bucket list? Recently proclaimed as one of Lonely Planet's 'Top 5 Region's' in the world travel to in 2019, Australia's Red Centre, Is on many traveller's bucket list and here is the chance to tick off this iconic destination.
Alice Springs, Uluru (Ayers Rock), Kata Tjuta (The Olgas), Kings Canyon, Glen Helen Gorge, Devils Marbles, West MacDonnell Ranges, Plenty Highway, just to name a few.
Witness the Henley on Todd Regatta street parade while in Alice Springs. Feeling adventurous climb Ayers Rock for the last time or watch people climb before this iconic "The Rock" is closed permanently & witness the beautiful Field of Lights before it finishes.
The critically acclaimed Field of Light Uluru by the internationally celebrated artist Bruce Munro is on show, as darkness falls and Uluru is thrown into silhouette, Field of Light illuminates. As far as the eye can see gentle rhythms of colour light up the desert.
The exhibition, aptly named Tili Wiru Tjuta Nyakutjaku or 'looking at lots of beautiful lights' in local Pitjantjatjara is Munro's largest work to date. Overwhelming in size, covering more than seven football fields, it invites immersion in its fantasy garden of 50,000 spindles of light, the stems breathing and swaying through a sympathetic desert spectrum of ochre, deep violet, blue and gentle white.
Don't miss the opportunity to travel in style & be amazed at what this part of our country has to offer....